Paint Out Norfolk 2020 saw some 50 artists take part in a Covid-distancing coast and countryside plein air art event. Well over 400 paintings were created and the three judges: Sarah Flynn (Sworders), Amanda Geitner (EAAF) and artist Bruer Tidman, had a tough choice to narrow them down to 3 main prizes and a personal commendation each. James and Katy also awarded two artists with the Paint Out Spirit of Plein Air prizes for their body of work produced during the event, consistency and quality. The prizes, as in 2019, went to a trio of female artists: First Prize – Susan Isaac, Second Prize – Mary Blue Brady, Third Prize – Amanda Barrett, and commendations to Alfie Carpenter, Jack Godfrey, Naomi Clements-Wright, Spirit of Plein Air awards to Paul Alcock, Sam Robbins.
First Prize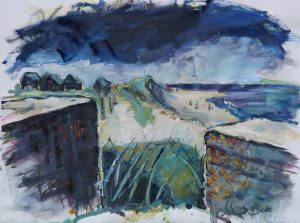 The well-deserved first prize was awarded to artist Susan Isaac for her 'Against the Waves' painted at Winterton-on-Sea on day two of the art competition. It's a large 50x65cm oil painting juxtaposing and leading the eye between two big concrete blocks and the dunes, sea and sky at the east Norfolk beach.
It's lovely to see the finished work and it winning top prize as Susan described its creation:
"I struggled for most of the day with the various elements to the composition, trying to balance scale and contrast with colours and tones, in order to give some sense of the intense blues and mauves of the hot summers day without being too literal. I eventually felt that I had done all I could to explain what lay in front of me and what I wanted to extrapolate from it."
Second Prize

American artist, currently living on and loving the North Norfolk Coast, Mary Blue Brady, for her "Cultivating the Edge", Wiveton Down, Acrylic, 8x32in. Mary weaves wet paint and words together in poetic landscapes.
Third Prize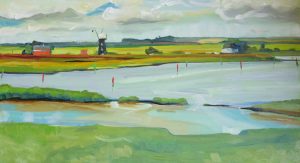 Newmarket-based artist Amanda Barrett, studied at the British Institute, Florence (Renaissance Art), Brighton Art College (Fine Art Painting) and Chelsea School of Art (Graphic Design) and her "Berney Arms Windmill and Breydon Water", Burgh Castle, Oil, 23x45cm is full of fluid strokes and layers.
Commendations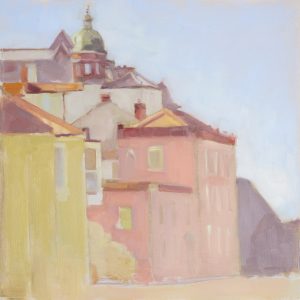 Naomi Clements Wright, Pink Promenade, Cromer, Oil, 12x12in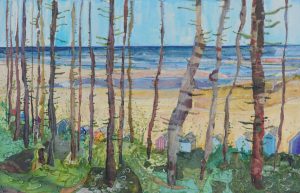 Alfie Carpenter, Summer through the Trees, Wells-next-the-Sea, Mixed Media, 27x42cm

Jack Godfrey, Rhythm in Blue, Norwich Cathedral, Oil, 6x17in
Spirit of Plein Air
The Spirit of Plein Air awards for a body of work and consistent excellence went to Paul Alcock and Sam Robbins