Paint Out 2020's outdoor painting programme will be our biggest yet. An 8-day tour of Norfolk and Norwich (16-23 July). Some 40 artists have been accepted already from the UK and USA with more joining us from Russia and elsewhere. We are expecting around 50-70 plein air artists. Brush up alongside new and familiar faces of the outdoor art practice community. Challenge your creativity. Develop your skills. Win prizes. Sell your artwork.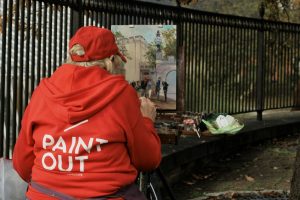 For our 7th year leading the field in UK plein air innovation and inspiration and for the second year in East Anglia, we are making this our flagship event for 2020. As we enter the next decade, our founding event Paint Out Norwich (2014) will become a part of our broader Norfolk event and we are moving it up to high summer from its founding origins in autumnal October where it began as part of the Hostry Festival.
Paint Out is the first and consistently long-running event of its kind in the UK and with over 15 events in 3 counties under our belt, prides itself in its quest to innovate and set new challenges, year on year.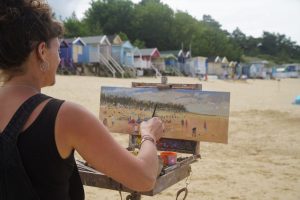 Come and capture the height of summer in city, coast and countryside locations including Norwich, Norfolk seaside, seaport and market towns, and historic houses. Days and destinations are still being finalised but are set to include: King's Lynn Festival, Cromer, Sheringham, North Walsham, and a couple of days and nights in Norwich.
There will be guest artists, painting demos, prestigious art talks, and daily prizes. Long summer days and evenings spent painting and socialising in stunning coastal, rural, market town and city environments.
Individual, weekend and multi-day choices available and transport options to county destinations. Priced from £15-£30/day – the early bird discount at £120 is sold out but the not-so-early bird discount of all 8 days at £135 till 29 February is open, rising to £150 in March.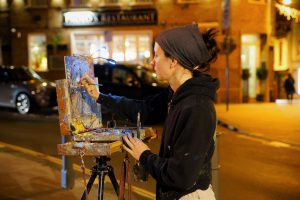 Artists looking to hone their outdoor painting skills will be walking on the shoulders of plein air giants. Norfolk and Norwich can justifiably be called the crucible of plein air painting. The Castle Museum in Norwich has the largest collection of Cotmans and Cromes to name a couple of historic luminaries and has very recently acquired a magnificent JMW Turner (Walton Bridges, 1806) – his first open-air work, an analysis of which we hope will form part of our evening lecture programme. Looking to their masterly neighbours across the North Sea (Dutch Golden Age), the vast skies, watery dykes and unique cool filtered light are replicated in Norfolk and have inspired artists down the ages.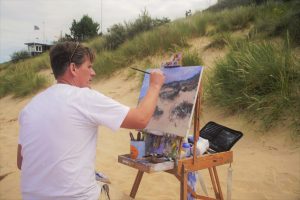 2020 will see us transport artists around the county to Georgian set-piece market towns, Victorian and art deco crumbling seaside splendour, replete with piers, funfairs, harbours and crab boats. The magnificent medieval architecture of Kings Lynn and Norwich will be supplemented with a return to our 2019 garden theme by taking in a Humphrey Repton red book garden or similar historic country house. A quick draw in front of one of the UK's oldest and largest markets will provide more than a surge of adrenalin, draw crowds and create bonds with fellow artists.
Paint Out is your chance to make friends, exchange techniques and laugh too, it will be creative inspiration, life-changing and enhancing.
Enter Paint Out Norfolk, 16-23 July 2020