Paint Out's plein air art events and exhibitions in Norfolk, UK, including Great Yarmouth, Holt, Norwich, Wells-next-the-Sea and other North Norfolk coastal towns, Norfolk Broads, seaports, market towns, country houses and gardens. In 2021, we are stretching far and wide across the coast from Hunstanton to Wells and Mundesley down to Happisburgh, Waxham, Horsey and Winterton. Inland, we are exploring King's Lynn, Gunton Park, Trowse and Whitlingham. Visit the online gallery of the event (2020, 2021 to follow).
Paint Out Norfolk, 16-24 July 2021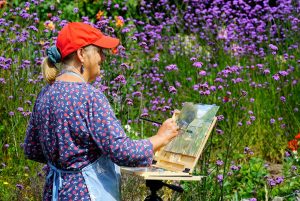 2021's outdoor painting programme includes an 8-day tour of Norfolk and Norwich, coast and countryside (16-24 July). Over 75 artists are expected from the UK and abroad. (See our 2020 Covid update for how we handled safety with a socially distant safe practice event and exhibition)
Come and capture the height of summer in city, coast and countryside locations including Norwich, Norfolk seaside, inland Broads, market towns, and historic houses, gardens and parks, allotments and cemeteries!
Paint Out Norfolk Entry Paint Out Norfolk Gallery Paint Out Norfolk Exhibition, PV & Awards Paint Out Norfolk 2020 Gallery
Itinerary
Fri 16th July – Norwich and Nearby
Sat 17th July – Norwich
Sun 18th July – Wells and West
Hunstanton, Thornham, Brancaster, Burnham, Creake, Wells-next-the-Sea
Mon 19th July – Broads
How Hill, Rollesby Broad, Burgh Castle, Thurne, St Benet's Abbey, Barton Turf, Breydon Water
Tue 20th July – West Norfolk
Wed 21st July – East Coast
Mundesley, Horsey, Happisburgh, Sea Palling, Waxham, Winterton, Hemsby, Great Yarmouth
Thu 22nd July – North Norfolk Country Park
Fri 23rd July – Norwich & Private View Day
Norwich, Whitlingham Country Park, Trowse Village
Sat 24th July – Public Exhibition Day
Norwich, Whitlingham Country Park, Trowse Village
Past Events
Paint Out Norfolk, 16-23 July 2020
Visit the online gallery of the event attended by 50 artists over 8 days creating over 400 paintings. See the locations painting Google map here.
Paint Out Norfolk 2020 Gallery
Paint Out Norfolk Gardens, May-Oct 2019
Throughout the year we will also be exploring Norfolk's great gardens through one-day events including:
Paint Out Norwich, 14-15 Oct 2019
This year, Paint Out Norwich will provide a finale paintout in the Plantation Garden to the Paint Out Norfolk Gardens series which will have taken place May-October, through the year's changing seasons, light, and colour. We are now painting Norwich Bishop's Garden (14 Oct) as well as Plantation Garden (15 Oct) and hope to have sessions exploring other urban parks and gardens in and around Norwich.
Paint Out Holt, 19-20 July 2019
The Holt Festival (21-27 July), now in its eleventh year, has invited Paint Out to open this year's Festival with a two-day Paint Out and Private View (19-20 July) around the charming North Norfolk town. Robert Upstone a Tate curator will be judging at Paint Out Holt.
Home to 500-year-old Gresham's School (alumni include WH Auden, Olivia Colman, Benjamin Britten, James Dyson, and the artist Ben Nicholson), this two-session Paint Out will be backed up by a ten-day exhibition in Picturecraft of Holt, a gallery and Art material supplier with the winners exhibiting alongside the now well established Holt Art Prize.
Join Our Mailing List Paint Out Register interest Paint Out Holt 2019 Gallery
Paint Out Norfolk, 1-7 July 2019
Paint Out Norfolk takes place in conjunction with The Sainsbury Centre for Visual Arts 1-7 July (painting days 1st-5th, PV 5th, Exhibition 6th-7th) based around the Sainsbury Centre/UEA campus site and painting further afield including Wells-next-the-Sea, the Broads, and Houghton Hall park.
Join Our Mailing List Paint Out Register interest Paint Out Norfolk 2019 Gallery
Paint Out Norwich, 13-17 Oct 2018
Premier plein air juried art competition since 2014, workshops and talks, public paint out, private view & awards, Hostry exhibition – more information
Paint Out Wells-next-the-Sea, 8 Sep 2018
North Norfolk coast plein air painting competition. Since 2015 this event has seen workshops, demos, beach public paint outs at sunrise, Buttlands exhibition, day trips to neighbouring towns such as Blakeney, Burnham Market, Brancaster Staithe etc. Apply here or more information about our long-running Wells events.
Paint Out Great Yarmouth, 1 Sep 2018
A new one-day event is taking place – Paint Out Great Yarmouth on 1 September, from Seaside to Quayside, in collaboration with Norfolk Museums Service and particularly the Time and Tide Museum's event 'Drawn to the Coast: Turner, Constable, Cotman' which explores the identity of Great Yarmouth and its surrounding landscape through the artwork it has inspired. Apply here.
Paint Out at the RNS 28-29 June 2017
Paint Out 2017 featured a select group of invited artists painting the UK's largest two-day agricultural fair – the Royal Norfolk Show. With up to 100,000 visitors it is the premier event of its kind.
Public Paint Outs & other One-Day Paint Outs
More of these to follow…