Paint Out 2023 Plein Air Art Competitions
ENTER Paint Out Norfolk, July 2023 Paint Out Register interest
Paint Out Norfolk, July 2023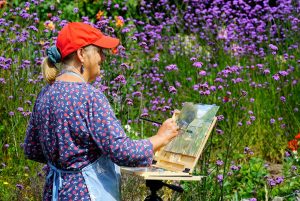 Our outdoor painting programme builds upon 9 years of plein air art events across of Norfolk and Norwich with an open-air exhibition that sees dozens of artwork sales. We expect to welcome over 100 artists from UK, Europe & USA, do sign up early to join the UK's most innovative plein air art event – the July 2023 event is now open for entries with early bird pricing (save up to £150). Come and capture the height of summer in city, coast and countryside locations including Norwich, Norfolk seaside, inland Broads, market towns, and historic houses, gardens and parks, allotments and cemeteries!
Paint Out Norfolk 2023 Application
Past Events
Paint Out Norfolk, 15-24 July 2022
Our third 8 days+ summer format saw 80+ artists brave the hottest heatwave in UK history. Artists painted from the North Coast and its creeks to the sublime serenity of Gooderstone Water Gardens, the National Trust's Blickling Hall to Wolterton Hall and Park, and across Norwich and the Norfolk Broads.
Judges included Dr Sally Anne Huxtable, Michael Richardson, and Hugh Pilkington.
Paint Out Norwich, 15-17 October 2021
We returned to the autumn and Norwich for a Hostry Festival anniversary special and exhibition in the Maddermarket Theatre.
Paint Out Norfolk, 16-23 July 2021
We continued the new 1-8 days+ summer format with 70 artists and double the exhibition capacity. Artists painted from Hunstanton to Winterton, Gooderstone Water Gardens to Gunton Park, and across Norwich and the Norfolk Broads.
Judges included artists Maggi Hambling and Rob Adams, and curator/art historian Giorgia Bottinelli.
Paint Out Norfolk 2021 Gallery
Paint Out Norfolk, 16-23 July 2020
Moving our premier event to the summer allows us to spend up to 8 days in Norwich and Norfolk, around city, coast and countryside, including seaside and market towns as well as the iconic historic medieval city of Norwich itself.
Paint Out Norwich Midwinter, 18 Dec 2019
Following 2018's midwinter free event we returned to Norwich Market, Jarrolds, Haymarket and the surrounding area to paint the seasonal scenes. Some 20 artists participated, painting early for the light as well as late for the Christmas lights.
Paint Out Norfolk Gardens, May-Oct 2019
Throughout 2019 we explored Norfolk's great gardens with a succession of one-day events at:
Paint Out Gardens 2019 Gallery
Paint Out Holt, 19-20 July 2019
The Holt Festival (21-27 July), now in its eleventh year, invited Paint Out to open this year's Festival with a two-day Paint Out and Private View (19-20 July) around the charming North Norfolk town. Robert Upstone a Tate curator judged the event at Paint Out Holt as well as Charlotte Crawley (Art Historian, former EAAF).
Home to 500-year-old Gresham's School (alumni include WH Auden, Olivia Colman, Benjamin Britten, James Dyson, and the artist Ben Nicholson), this two-session Paint Out will be backed up by a ten-day exhibition in Picturecraft of Holt, a gallery and Art material supplier with the winners exhibiting alongside the now well established Holt Art Prize.
Join Our Mailing List Paint Out Register interest Paint Out Holt 2019 Gallery
Paint Out Norfolk, 1-7 July 2019
Paint Out Norfolk took place in conjunction with The Sainsbury Centre for Visual Arts 1-7 July (painting days 1st-5th, PV 5th, Exhibition 6th-7th) based around the Sainsbury Centre/UEA campus site and painting further afield including Wells-next-the-Sea, the Broads, and Houghton Hall park.
Join Our Mailing List Paint Out Register interest Paint Out Norfolk 2019 Gallery
Paint Out Cambridge, 13-17 May 2019
The inaugural Paint Out Cambridge took place 13-17 May (painting 13-15th, PV 16th, exhibition till 17th) in collaboration with Cheffins Fine Art. Iconic views, Cambridge colleges, Kings College Chapel, the River Cam – its punts and bridges, the Market, may all feature in our first plein air Cambridge art event.
Join Our Mailing List Paint Out Register interest Paint Out Cambridge 2019 Gallery
What is Paint Out & Plein Air?
Paint Out™ is a multi-faceted event aiming to redefine en plein air art practice. Our core event is the premier and only fully juried en plein air competition in the United Kingdom, celebrating the talents of national and international artists before a wide and growing audience in the heart of medieval and iconic Norwich and at satellite locations. Our events aim to push the experience of painting en plein air and its challenges in all weather conditions, times of day and light, and varied locations and points of view.
Plein Air – Art works carried out in the open air – chiefly with reference to painting. The Paint Out competitions, however, accept any 2-dimensional media or mixed-media applied to a canvas/board/paper embracing drawing, pastels, oils, watercolour, and even screen-printing. Innovation and originality are encouraged alongside traditional art forms.
History of the Paint Out Competition
Paint Out Norwich launched in 2014 during the city's October Hostry Festival, that itself began in 2011. Some 30 artists participated in the first Norwich event, 35-45 in subsequent events. Read about the prizewinners from Paint Out Norwich 2014, Norwich 2015, Norwich 2016, Paint Out Norwich 2017 and Paint Out Norwich 2018. Paint Out events also hit the North Norfolk coast of Wells-next-the-Sea, Blakeney, Brancaster Staithe, and Burnham Market, in 2015-2018 and Great Yarmouth in 2018. See some of the past winners: Paint Out Wells 2016, 2017, 2018. Paint Out Norfolk 2020-23 saw us move the main event to the summer months and now attracts 70-100 artists.