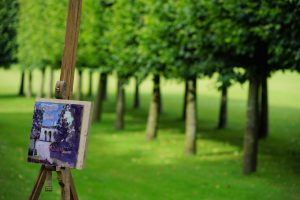 Paint Out's 2019 plein air exploration of Norfolk's great gardens and houses continues with Houghton Hall walled garden (14 Sep, 11-5pm) but you could also double-up and do Houghton and Elsing Hall across a weekend 14-15 Sep in Norfolk.
A past winner of Christie's Historic Houses Association 'Garden of the Year Award', the 5-acre walled garden has become one of Houghton's most popular attractions and is itself surrounded by acres of deer-filled woodland and the sculptures of Henry Moore.
Whether the colour of the plantings, or the architecture of horticultural form, or the statues and fine glasshouse, there are views aplenty to paint.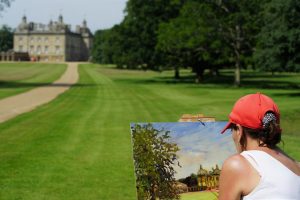 These are available as one-day paintouts for £30 or £100 for the remaining 4 events or all 6 if you've already pre-paid for the year.
Other venues include Hunworth Hall garden (5 Oct), Norwich Plantation Garden (15 Oct). Paintings will be exhibited for 11 days following a Private View and Prizegiving 16 October during the Hostry Festival in Norwich.
Paint Out Houghton Hall 2019 Paint Out Elsing Hall 2019 Paint Out Gardens 2019 Paint Out Norwich 2019
The space within Houghton Hall's Walled Garden is divided into several contrasting 'ornamental gardens'. These include a spectacular double-sided herbaceous border, an Italian garden, a formal rose parterre, fruit and vegetable gardens, a glasshouse, a rustic temple, antique statues, fountains and contemporary sculptures including Jeppe Hein's "Waterflame", Stephen Cox's "Flask II", and Richard Long's "Houghton Cross" currently positioned on the croquet lawn.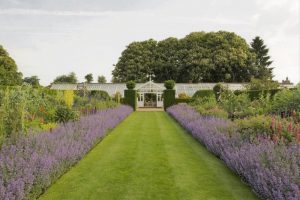 Historic England entry (somewhat out of date!): KITCHEN GARDEN The 5 acre (c 2ha) walled garden lies c 350m south-west of the Hall behind 3m high red-brick walls (listed grade II).
The interior has been developed over the past five years (1992-7) by the present owner as an ornamental flower, fruit, and vegetable garden and is divided into four compartments by mature yew and beech hedges connected to a late C20 central circle of yew with tree peony beds. Paths of grass and gravel radiate from this, with the long north/south axis defined by double herbaceous borders.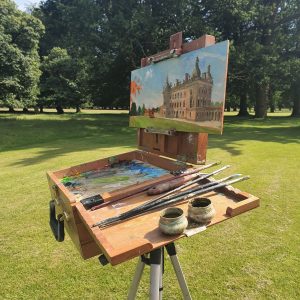 The north-east quarter contains a newly planted (1990s) rose garden with herbaceous areas, yew hedging, a central pool, and four statues, while the north-west quarter is currently (1999) being planned.
The south-east quarter is divided by a newly planted (1990s) pleached hornbeam walk and the north-east quarter planted with old orchard trees in part, new fruit areas in part and an ornamental potager for vegetables.
The walled garden is contemporary with the building of the new hall and stables in the early C18 whilst the internal layout and glasshouses are all of late C20 origin.