Elsing Hall Gardens was visited on 16 Jun & 15 Sep 2019 one of seven days painting in six of Norfolk's great gardens, and this grade I listed rural home has been described as "one of the hidden treasures of East Anglia". The 20-acre estate of the fifteenth-century house and medieval moat near Dereham was previously recorded in nineteenth-century watercolour paintings by Rev James Bulwer now held in the Norwich Castle Museum and Art Gallery. In June, the roses were in full bloom but throughout the year the gardens have views around every twist of moat and turn of corner.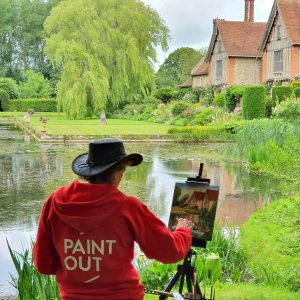 The romantic gardens were established over 30 years ago under the direction of Shirley Cargill and have constantly developed ever since in terms of both restoration and innovation. There is a historic hydraulic ram pump that was installed almost 200 years ago and is still housed in its original underground brick pump house accessed by a spiral stairway.
Many other interesting features include the probably unique gingko avenue, the rapidly maturing pinetum, the formal Osprey Garden, the flowing planting around the moat, and densely planted with Lonicera Nitida viewing mound with a spiral path taking one slowly to the summit.
Paint Out Elsing Hall Art Gallery