Paint Out™ is an art event aiming to refresh and redefine 21st century en plein air art practice. Founded in 2014, we are the UK's premier and only fully juried en plein air art competition, celebrating the talents of national and international artists before a wide audience in the heart of medieval and iconic Norwich, as well as around beautiful Norfolk's towns, countryside, broads and coast. We've also popped up in Suffolk and Cambridge. Many of our events are about extreme painting challenges, in any weather, up against the clock and the gaze of the art-loving public. Come and Experience Art, Live!
Our last city event was October 2022 in Norwich and our big event itself in its 10th anniversary year – Paint Out Norfolk was 13-22 July 2023 attracting over 140 artist entries, with art workshops and demos available to all, a multi-day selling Exhibition, and PV & Awards of the best art of the week.
Enter Paint Out Norfolk July 2024 View Paint Out Norfolk 2023 Gallery Paint Out Norfolk 2023 Art Catalogue Participating Artist Info Paint Out Workshops & Demos Paint Out Exhibition Volunteer/Intern/Work with us Paint Out History
Paint Out 2024
Watch this space!
Paint Out 2023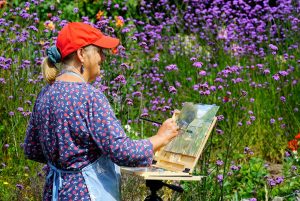 Our outdoor painting programme builds upon over 9 years of plein air art events and 3 years of 8-day tours of Norfolk and Norwich with open-air exhibitions seeing dozens of artwork sales and thousands also raised for charity. Each event sees interest from over 100 artists from UK, USA, France, Ireland, Malta, Scandinavia and elsewhere; do enter the UK's most innovative plein air art event running each July with applications exceeding 140+ artist entries.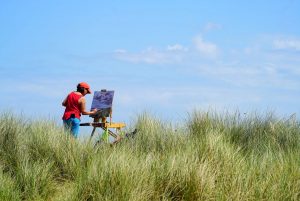 It's an opportunity to brush up alongside new and familiar faces of the plein air art community. Challenge your creativity. Develop your skills – we have optional extra workshops and demos from guest artists Haidee Jo Summers, Roger Dellar, and Rob Nelmes. Come and capture the height of summer in county, city, coast, and countryside locations including Norwich, Norfolk seaside, inland Broads, seaport and market towns, several historic houses and gardens, and over-the-border forays to Constable country in Suffolk. There will be guest artists, painting demos, talks, socials, and art world judges.
Recent judges have included Dr Sally Anne Huxtable, Michael Richardson, Maggi Hambling, Rob Adams, Hugh Pilkington and the Castle Museum's Giorgia Bottinelli.
This year the judges include art historian and award-winning author Frances Spalding; art history at UEA alumni, Aylsham Picture House chair, art and antiques expert on Dickinson's Real Deal, James Layte; and Andrew Bowyer, formerly head of Phillips' Picture Department, and Sotheby's Old Masters and now a Fine Art Consultant for Sworders.
Sworders Fine Art Auctioneers will also be on-site during the PV on 20th July and through to 22nd July offering a free art appraisal service for one piece of your art/antique collection (Antiques Roadshow style!). They are the main sponsors of the event this year along with Rosemary & Co Brushes, Michael Harding Paints, and Norwich Art Supplies.
Enter Paint Out Norfolk 2023 Interactive Map of Painting Locations Paint Out PV & Exhibition Paint Out Norwich 2022 Gallery View Paint Out Norfolk 2022 Gallery Paint Out History Paint Out Workshops & Demos
Art Workshops
Available to Paint Out Norfolk participating artists and non-entrants of any level alike
Experience Art – Live!