Paint Out™ is an art event aiming to refresh and redefine 21st century en plein air art practice. Founded in 2014, we are the UK's premier and only fully juried en plein air art competition, celebrating the talents of national and international artists before a wide and growing audience in the heart of medieval and iconic Norwich, as well as around beautiful Norfolk's towns, countryside, broads and coast. We've also popped up in Suffolk and Cambridge. Many of our events are about extreme painting challenges, in any weather, up against the clock and the gaze of the art-loving public. Come and Experience Art, Live!
Our last event was 27-30 October in Norwich and our big event itself in its 10th anniversary year – Paint Out Norfolk is July 2023 will attract 100+ artists, a rolling Exhibition and PV & Awards of the best art of the week.
Paint Out Norwich 2022 Gallery Enter Paint Out Norfolk July 2023 Paint Out Norwich PV & Exhibition Participating Artist Info Paint Out Norfolk 2022 Gallery
Paint Out 2022-23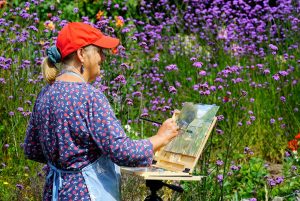 Our outdoor painting programme builds upon over 9 years of plein air art events and 3 years of 8-day tours of Norfolk and Norwich with open-air exhibitions seeing dozens of artwork sales and thousands raised for charity too. Each event sees interest from over 100 artists from UK, USA, France and elsewhere, do enter the UK's most innovative plein air art event – the 15-22 July 2022 event is over but 2023 early-bird applications will open soon.
This 27-29 October we are revisiting Norwich in the autumn with a specific emphasis on a Nocturne painting festival running Thursday evening through to a Saturday PV and exhibition in Cathedral Close, Tombland, during the Hostry Festival.
A Sunday warm-up event also ran 26 June 2022 featuring 16 open gardens and a 14th-century church based in the beautiful Ludham, on the Norfolk Broads. Home to Edward Seago and Kieron Williamson, this event saw classic cars, heritage boats, and the village life of a summer festival celebration in full swing.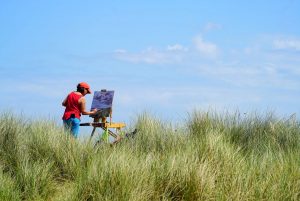 It's an opportunity to brush up alongside new and familiar faces of the plein air art community. Challenge your creativity. Develop your skills. Come and capture the height of summer in city, coast, and countryside locations including Norwich, Norfolk seaside, inland Broads, seaport and market towns, historic houses and gardens. There will be guest artists, painting demos, talks, socials, and art world judges. Recent judges have included Dr Sally Anne Huxtable, Michael Richardson, Maggi Hambling, Rob Adams, Hugh Pilkington and Giorgia Bottinelli.
Enter Paint Out Norfolk 2023 Interactive Map of Painting Locations Paint Out PV & Exhibition Paint Out Norfolk 2021 Gallery View Paint Out Norfolk 2022 Gallery Paint Out History
Experience Art – Live!