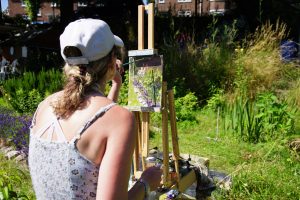 Paint Out™ is an art event aiming to refresh and redefine 21st century en plein air art practice. Founded in 2014, we are the UK's premier and only fully juried en plein air art competition, celebrating the talents of national and international artists before a wide and growing audience in the heart of medieval and iconic Norwich, as well as around beautiful Norfolk's towns, countryside, broads and coast. We've also popped up in Suffolk and in 2019 branched out to Cambridge. Many of our events are about extreme painting challenges, in any weather, up against the clock and the gaze of the art-loving public. Come and Experience Art, Live!
Our next event is the big event itself – Paint Out Norfolk is 15-23 July with an Exhibition till 25 July.
View Paint Out Ludham 2022 Gallery Enter Paint Out Norfolk July 2022
Paint Out 2021/22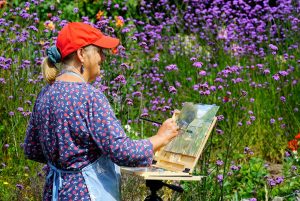 Our outdoor painting programme builds upon over 8 years of plein air art events and 2 years successful and Covid-safe 8-day tours of Norfolk and Norwich with open-air exhibitions that saw dozens of artwork sales and thousands raised for charity too. In 2021, we expanded with double the space for over 70 artists and more facilities on-site and we expand again in 2022. With interest from over 100 artists from UK, USA, France and elsewhere, do sign up early to join the UK's most innovative plein air art event – the 15-23 July 2022 event is open for entries with early bird pricing (save up to £120) but is filling up fast with over 90 artists confirmed.
A Sunday warm-up event also ran 26 June 2022 featuring 16 open gardens and a 14th-century church based in the beautiful Ludham, on the Norfolk Broads. Home to Edward Seago and Kieron Williamson, this event will also see classic cars, heritage boats, and the village life of a summer festival celebration in full swing.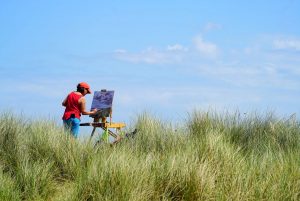 It's an opportunity to brush up alongside new and familiar faces of the plein air art community. Challenge your creativity. Develop your skills. Come and capture the height of summer in city, coast, and countryside locations including Norwich, Norfolk seaside, inland Broads, seaport and market towns, historic houses and gardens. There will be guest artists, painting demos, talks, socials, and art world judges. Last year's included Maggi Hambling, Rob Adams, and Giorgia Bottinelli.
Finally, 27-29 October we are revisiting Norwich in the autumn with a specific emphasis on a Nocturne painting festival running Thursday evening through to a Saturday PV and exhibition in Cathedral Close, Tombland.
Enter Paint Out Norfolk 2022 Interactive Map of Painting Locations Paint Out Norfolk PV & Exhibition Paint Out Norfolk 2021 Gallery
Paint Out 2020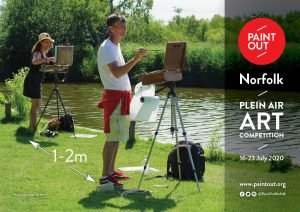 2020's outdoor painting programme included an 8-day tour of Norfolk with over 50 of the 60+ accepted artists still able to attend, despite Covid. It meant a more measured event with socially distancing artists and a masked-up exhibition. Check out the painting locations Google map here. View the gallery of some of the finished artworks. Well over 400 paintings were created and the three judges: Sarah Flynn (Sworders), Amanda Geitner (EAAF) and artist Bruer Tidman, had a tough choice to narrow them down to 3 main prizes and a personal commendation each. James and Katy also awarded two artists with the Paint Out Spirit of Plein Air prizes for their body of work produced during the event, consistency and quality. The prizes, as in 2019, went to a trio of female artists: First Prize – Susan Isaac, Second Prize – Mary Blue Brady, Third Prize – Amanda Barrett, and commendations to Alfie Carpenter, Jack Godfrey, Naomi Clements-Wright, Spirit of Plein Air awards to Paul Alcock, Sam Robbins.
Paint Out Norfolk Exhibition Paint Out Norfolk 2020 Gallery Lockdown plein air Painting Survey
Paint Out 2019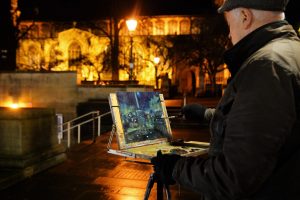 Following 2018's midwinter free event we returned to Norwich Market, Jarrolds, Haymarket and the surrounding area in mid-December 2019 to paint the seasonal scenes. Some 20 artists participated, painting early for the light as well as late for the Christmas lights.
2019's outdoor painting programme brought us to Cambridge with Cheffins Fine Art for the first time (13-15 May), The Sainsbury Centre for Visual Arts (1-7 July), a collaboration with the Holt Festival (19 July), and with the Norwich Hostry Festival (14-16 Oct). Our premier Norfolk plein air event offered variety of visual stimuli from beach and pine at Wells next the Sea, inland Broads at How Hill, park, house and Henry Moore sculptures at Houghton Hall, modern and more sculptures at UEA & the Sainsbury Centre culminating in judging, awards, a private view and an exhibition – now online.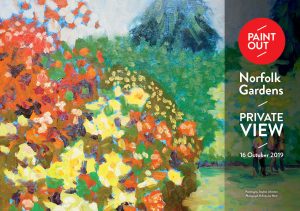 Through a series of one-day paint puts we will also have explored Norfolk's historic and hidden gardens including: Stody Lodge gardens (26 May), Elsing Hall gardens (16 Jun & 15 Sep), Houghton Hall walled garden (14 Sep), Hunworth Hall garden (5 Oct), Norwich Bishop's Garden (14 Oct), Norwich Plantation garden (15 Oct). Art Exhibition (17-27 Oct).
Read more about our 2019 events launch. Visit galleries of past events.
Paint Out Cambridge Gallery Paint Out Norfolk Gallery Paint Out Holt Gallery Paint Out Gardens Gallery
Plein Air – Art works carried out in the open air – chiefly painting.
The Paint Out competitions and invitationals accept any 2-dimensional media or mixed-media applied to a canvas/board/paper embracing drawing, pastels, oils, watercolour, gouache, acrylic, pen and ink, screen-printing, and even digital in certain categories. Innovation and originality are encouraged alongside traditional art forms. We are increasingly moving towards displaying mostly unframed 'art in the raw', showing off plein air art in a fresh way, hot – or rather wet off the easel.
We seek to capture the urban city and country environments in contemporary ways for a new and modern audience as well as established art collectors. We bring art and artists to the people, rather than vice versa, with our artists on the streets and pop-up galleries on the greens. If you want to commission or collaborate with us to bring an event to your location, please get in touch.
We have a number of events in East Anglia before the annual premier event Paint Out Norwich to whet your appetite including several one-day PaintOuts in Norfolk historic and hidden gardens from May-early October including opportunities to paint historical changing rural and urban landscapes in Cambridge, Holt and Norfolk as we seek to use Paint Out events to document our changing environment.
Join Our Mailing List Paint Out Register interest Art Talks Art & Painting Workshops Gallery Public Open Paint Outs Volunteer with us
Past Events
2017 saw Paint Out go to the Royal Norfolk Show, and in 2018 we had events in Sudbury, Suffolk and Great Yarmouth, Norfolk. We aim to grow Paint Out year-on-year in terms of the variety, challenge, location, and quality of events.
Paint Out Norwich 2018
Paint Out Norwich 2018
competition, categories, prizes, event dates, and locations, for the
plein air
painting days during the
Hostry Festival 2018
ran
13-17
October
with 2-5 days of day and night (optional) painting, artist workshops, a
public 'paintout
' (21 Oct), and a
private view, awards and art sale
. This was followed by an
art exhibition
of over 150 paintings until 28 October at the Norwich Cathedral Hostry each day. Over 50 applications were juried by our selector
David Curtis
ROI RSMA, and some
35 artists
participated this year.
Register Interest PON2018 Map Public Open Paint Out Private View & Awards Art & Painting Workshops Art Talks
Paint Out Great Yarmouth, 1 Sep 2018
A new one-day event – Paint Out Great Yarmouth on 1 September, from Seaside to Quayside, in collaboration with Norfolk Museums Service and particularly the Time and Tide Museum's event 'Drawn to the Coast: Turner, Constable, Cotman' which explores the identity of Great Yarmouth and its surrounding landscape through the artwork it has inspired.
Paint Out Wells-next-the-Sea, 8 Sep 2018
The Paint Out Wells 2018 competition on the North Norfolk coast offers either a weekend-only pop-up event (2015-2017) or a one-day intensive paint day on the coast (2018) making it more accessible for those with jobs and other commitments. The event runs early September and in 2018 it was 8 September.
Paint Out Sudbury, Suffolk, 30 Jun 2018
One-day warm-up event in Gainsborough's hometown with options to paint the town, Gainsborough garden, old railway line walk, the Watermeadows, and more. Great views and amazing local countryside on the Suffolk/Essex border. [Gallery here…]
Artist Will Topley at Paint Out Wells 2016 by Giacomo Gex on Vimeo.
Norwich & Wells, Norfolk Art Class/Workshops/Talks
Paint Out provides an excellent opportunity for aspiring and seasoned artists to acquire and refresh core skills. Themes include painting and drawing, colour theory, composition, perspective, and best en plein air practice in oils, watercolour and other media, both as practical workshops and as public paint outs. Our education programme is taught by experienced professionals and covers everything you need to take your art to the next level, with a particular emphasis on Plein Air essentials. In addition, we have entrepreneurial advice about growing your art business alongside your art practice covering blogging, social media, photography, framing, pitching to galleries, and selling. Finally, we put things in context with cultural and historical talks and tours.
Join our mailing list or register interest in our events to stay informed.
Art & Painting Workshops Art Talks Public Open Paint Outs Join Our Mailing List Paint Out Register interest
Paint Out at the RNS 28-29 June 2017
Paint Out 2017 featured a select group of invited artists painting the UK's largest two-day agricultural fair – the Royal Norfolk Show. With up to 100,000 visitors it is the premier event of its kind. Our artists and team were to be found around the Show and at the Leathes Prior sponsored Paint Out tent. There was an auction of the still-wet fresh art on the Wednesday 28th by Arnolds Keys fine art auctioneers and a rolling gallery exhibition and sale of paintings from shortly after 8am 28 June to 6pm 29 June. Archant sponsored and presented £500 of prizes for First and Second places "Best in Show" paintings to Robert Nelmes and Tom Cringle. Norwich Art Supplies provided the art materials voucher prizes, presented to Haidee-Jo Summers and Mo Teeuw, for the jointly-shared Spirit of Plein Air award. View the Gallery of art painted and those still for sale.
Paint Out News, Updates & Social Media
You can read our latest blog posts, news and updates here. You can also contact us by Email and follow us on Facebook, Google+, Instagram, LinkedIn, Pinterest, Twitter, and YouTube to keep up to date with local art exhibitions, progress of the 2016 competition, and news about our artists.