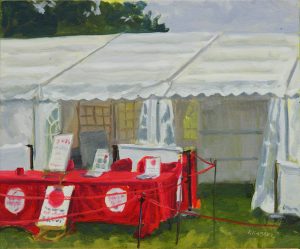 Paint Out Norfolk takes place 15-24 July. 90+ plein air artists touring city and towns, coast and countryside. Eight painting days in the summer sun! The rolling exhibition of around 100 fresh artworks will be on display each day and 200+ on the final day drawn from 600+ created during the week. Please RSVP to the Private View & Awards or Exhibition below.
Exhibition Location
Large open-sided marquee next to Flint Barn Café, Whitlingham Lane, Trowse, Norwich, NR14 8TR. Food & drinks vendors some evenings.
Check out our Google Map of where we are painting around Norfolk each day (this will be updated live with any changes).
Opening Times
16th-21st July 9-11am & 5-8pm (and at other times if the main Marquee is open)
22nd July 6-8pm (Private View & Awards – RSVP below to confirm attendance)
23rd July 9-8pm
24th July 9-4pm (we will be taking down the exhibition from 4pm but will be on-site for collections)
Sales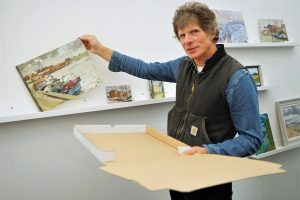 Purchased paintings can be collected from 7pm on the 22nd, through the weekend and afterward by arrangement.
If you've seen a painting you are interested in please visit the event online gallery or contact info@paintout.org 07432 608015 / 07808 970429 to purchase
Charity
We supported MIND in 2020 raising £1000 and in 2021 we raised £1650 for Young Norfolk Arts which "provides opportunities for children and young people to create and engage with creativity and culture across Norfolk.". 2022's charity is towards Ukraine relief.
Exhibition, Private View & Awards RSVP
This year the judges are Head Curator of the National Trust & Design History Society Chair Dr Sally-Anne Huxtable, critic and curator Hugh Pilkington and artist Michael Richardson
Paint Out Norfolk 2022 Gallery Paint Out Norfolk 2021 Gallery Paint Out Norfolk 2020 Gallery