Paint Out™ is an art event aiming to refresh and redefine 21st century en plein air art practice. Founded in 2014, we are the UK's premier and only fully juried en plein air art competition, celebrating the talents of national and international artists before a wide and growing audience in the heart of medieval and iconic Norwich, as well as on the beautiful North Norfolk coast at Wells-next-the-Sea. We expanded our events across Norfolk in 2017 including the Royal Norfolk Show, and in 2018 had events in Sudbury, Suffolk and Great Yarmouth, Norfolk. Many of our events are about extreme painting challenges, in any weather, up against the clock and the gaze of the art-loving public. Come and Experience Art, Live!
Public Paint Outs Paint Out 2018 Paint Out Great Yarmouth Paint Out Norwich Paint Out Sudbury Paint Out Wells & North Norfolk
Paint Out Norwich Winter Nocturne, 19 Dec 2018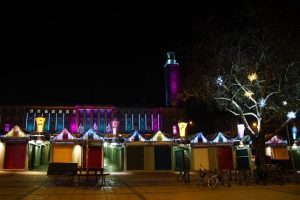 Paint Out Norwich warmly (well hopefully) invites you to a winter nocturne Christmas lights plein air and social, Wednesday 19 December 2018 4-7pm. Whilst the open air painting and pinting event, starting out at the Bell Hotel pub, is free please RSVP to get an idea of numbers.
We also hope to offer a small prize for the best painting of the evening. Some of the suggested locations include the fifteenth-century Bell Hotel itself, Jarrolds, and the Market/City Hall. All three are decorated and illuminated with tasteful seasonal lighting.
Plein Air – Art works carried out in the open air – chiefly painting.
The Paint Out competitions and invitationals accept any 2-dimensional media or mixed-media applied to a canvas/board/paper embracing drawing, pastels, oils, watercolour, gouache, acrylic, pen and ink, screen-printing, and even digital in certain categories. Innovation and originality are encouraged alongside traditional art forms. We are increasingly moving towards displaying mostly unframed 'art in the raw', showing off plein air art in a fresh way, hot – or rather wet off the easel.
We seek to capture the urban city and country environments in contemporary ways for a new and modern audience as well as established art collectors. We bring art and artists to the people, rather than vice versa, with our artists on the streets and pop-up galleries on the greens. If you want to commission or collaborate with us to bring an event to your location, please get in touch.
We have a number of events in East Anglia before and during the annual premier event Paint Out Norwich to whet your appetite including several one-day PaintOuts in Suffolk & Norfolk from May-Sep including opportunities to paint historical changing rural and urban landscapes as we seek to use Paint Out events to document our changing environment.
Join Our Mailing List Paint Out Register interest Art Talks Art & Painting Workshops Gallery Public Open Paint Outs Volunteer with us
Paint Out Norwich 2018
Paint Out Norwich 2018
competition, categories, prizes, event dates, and locations, for the
plein air
painting days during the
Hostry Festival 2018
ran
13-17
October
with 2-5 days of day and night (optional) painting, artist workshops, a
public 'paintout
' (21 Oct), and a
private view, awards and art sale
. This was followed by an
art exhibition
of over 150 paintings until 28 October at the Norwich Cathedral Hostry each day. Over 50 applications were juried by our selector
David Curtis
ROI RSMA, and some
35 artists
participated this year.
Register Interest PON2018 Map Public Open Paint Out Private View & Awards Art & Painting Workshops Art Talks
Paint Out Great Yarmouth, 1 Sep 2018
A new one-day event – Paint Out Great Yarmouth on 1 September, from Seaside to Quayside, in collaboration with Norfolk Museums Service and particularly the Time and Tide Museum's event 'Drawn to the Coast: Turner, Constable, Cotman' which explores the identity of Great Yarmouth and its surrounding landscape through the artwork it has inspired.
Register Interest Gallery Enter POGY2019
Paint Out Wells-next-the-Sea, 8 Sep 2018
The Paint Out Wells 2018 competition on the North Norfolk coast offers either a weekend-only pop-up event (2015-2017) or a one-day intensive paint day on the coast (2018) making it more accessible for those with jobs and other commitments. The event runs early September and in 2018 it was 8 September.
Register Interest Gallery Enter POW2019
Paint Out Sudbury, Suffolk, 30 Jun 2018
One-day warm-up event in Gainsborough's hometown with options to paint the town, Gainsborough garden, old railway line walk, the Watermeadows, and more. Great views and amazing local countryside on the Suffolk/Essex border. [Gallery here…]
Artist Will Topley at Paint Out Wells 2016 by Giacomo Gex on Vimeo.
Norwich & Wells, Norfolk Art Class/Workshops/Talks
Paint Out provides an excellent opportunity for aspiring and seasoned artists to acquire and refresh core skills. Themes include painting and drawing, colour theory, composition, perspective, and best en plein air practice in oils, watercolour and other media, both as practical workshops and as public paint outs. Our education programme is taught by experienced professionals and covers everything you need to take your art to the next level, with a particular emphasis on Plein Air essentials. In addition, we have entrepreneurial advice about growing your art business alongside your art practice covering blogging, social media, photography, framing, pitching to galleries, and selling. Finally, we put things in context with cultural and historical talks and tours.
Join our mailing list or register interest in our events to stay informed.
Art & Painting Workshops Art Talks Public Open Paint Outs Join Our Mailing List Paint Out Register interest
Paint Out at the RNS 28-29 June 2017
Paint Out 2017 featured a select group of invited artists painting the UK's largest two-day agricultural fair – the Royal Norfolk Show. With up to 100,000 visitors it is the premier event of its kind. Our artists and team were to be found around the Show and at the Leathes Prior sponsored Paint Out tent. There was an auction of the still-wet fresh art on the Wednesday 28th by Arnolds Keys fine art auctioneers and a rolling gallery exhibition and sale of paintings from shortly after 8am 28 June to 6pm 29 June. Archant sponsored and presented £500 of prizes for First and Second places "Best in Show" paintings to Robert Nelmes and Tom Cringle. Norwich Art Supplies provided the art materials voucher prizes, presented to Haidee-Jo Summers and Mo Teeuw, for the jointly-shared Spirit of Plein Air award. View the Gallery of art painted and those still for sale.
Paint Out News, Updates & Social Media
You can read our latest blog posts, news and updates here. You can also contact us by Email and follow us on Facebook, Google+, Instagram, LinkedIn, Pinterest, Twitter, and YouTube to keep up to date with local art exhibitions, progress of the 2016 competition, and news about our artists.