Paint Out Plein Air Art Competition & Events 2017
Paint Out
™ is an art event aiming to redefine 21st century 
en plein air
art practice. Our core event,
now in its fourth year
, is the UK's premier and only fully
juried en plein air art competition
, celebrating the talents of national and international artists before a wide and growing audience in the heart of medieval and iconic
Norwich. 
Our first satellite painting event was
Wells-next-the Sea 2015
 on the
North Norfolk
coast. 2015 saw a first-of-its-kind mass public 'paint out' of
some 100 artists
, of all ages, painting the expansive Norwich skyline, from historic
Mousehold Heath
. Innovating again, 2016 witnessed several artists take to canoes to create water-level views of the bridges and rivers of Norwich.
Plein Air - Art works carried out in the open air - chiefly with reference to painting.
The
Paint Out
competitions, however, accept any 2-dimensional media or mixed-media applied to a canvas/board/paper embracing drawing, pastels, oils, watercolour, gouache, acrylic, pen and ink, and even screen-printing. Innovation and originality are encouraged alongside traditional art forms. Last year we innovated by running a 'freestyle' larger form 2-day event alongside our classic Core event of 4 separate 3-hour painting sessions judged separately in Oils, Water-based, and Other/Mixed-Media categories by eminent artist and art-world
judges
. Our groundbreaking Nocturne event returned for its second year.
Paint Out at the RNS 28-29 June weekend
Paint Out 2017
sees a
select group of invited artists
painting the UK's largest two-day agricultural fair - the
Royal Norfolk Show
. With up to 100,000 visitors it is the premier event of its kind. Visit our artists and team around the Show and at the
Leathes Prior
sponsored
Paint Out
tent (Avenue 9, Stand 262). There will be an auction of the still-wet fresh art at 3.30pm on Wednesday 28th by
Arnolds Keys
fine art auctioneers.
Norwich & Wells, Norfolk Art Class/Workshops/Talks
Paint Out
provides an excellent opportunity for aspiring and seasoned artists to acquire and refresh core skills. Themes include
painting
and
drawing
,
colour theory
,
composition
,
perspective
, and best
en plein air
practice in
oils
,
watercolour
and other media, both as practical workshops and as
public paint outs
. Our education programme is taught by experienced professionals and covers everything you need to take your art to the next level, with a particular emphasis on
Plein Air essentials
. In addition, we have entrepreneurial advice about growing your art business alongside your art practice covering
blogging
,
social media
,
photography
,
framing
,
pitching to galleries
, and
selling
. Finally, we put things in context with cultural and historical
talks
and
tours
.
Details to follow, join our
mailing list
or
register interest in our events
to stay informed.
Paint Out Norwich 2017
The
Paint Out Norwich 2017
competition, categories, prizes, event dates, and locations, for the
plein air
painting days during the
Hostry Festival 2017
will run
Monday 16th
and
Tuesday 17th October
with artist workshops on Saturday 14th, a
public 'paintout
' on Tombland and around the Norwich Cathedral area, Sunday 15th, and a
gala private view and art sale
on Wednesday 18th October. This will be followed by an art exhibition of over 150 paintings until 28 October at the Norwich Cathedral Hostry each day. The
2016 gallery is now online
.
The Norwich 2016 event was
won by Chris Daynes
for "The Yellow Canoe" which also won the First Prize in Oils and £1000 in total including his category win, sponsored by Strutt & Parker. We are also grateful to Archant for sponsoring several second placed prizes as well as the Watercolour and Mixed Media categories. The Oils category saw second place go to
Roger Dellar
.
The Core event was won in Mixed Media by
Alfie Carpenter
, for "Guildhall Aglow", with runner up
Tom Cringle
– who also won Second Prize overall, sponsored by La Ronde Wright, lifting his prize total to £500.
In Watercolour,
Richard Bond
's painting of Norwich School playing fields, "Between the Showers", won, with second place going to
Andrew Horrod
.
The returning Nocturne event was won by
Tom Cringle
for his "Untitled" spire at night, with
Michael Richardson
's "Night Time in the Lanes", coming second. This prize category was sponsored by Sowerbys.
The new Freestyle event was won by
Robert Nelmes
for his widescale painting, "Norwich Market", and the runner up second prize went to
Brian Korteling
for his very urban Magdalen Street flyover, complete with graffiti, "Waiting for the bus". This prize category was sponsored by La Ronde Wright.
In addition, the three
judges
–
David Curtis
,
Sue Grayson Ford
, and
Nick Holmes
, also commended oil paintings by Jerome Hunt "Cathedral Facade Shadows", Tanya Pawsey, "Swans from Bishop Bridge", and the mixed media piece by Claire Stevens, "Oldest Iron Bridge".
Sue Mann
, renowned for painting from a bicycle, won this year's
Spirit of Plein Air Award
for being the first to take the plunge and paint from a canoe.
Paint Out Wells-next-the-Sea 2017
The
Paint Out Wells 2017
competition on the North Norfolk coast offers a weekend-only pop-up event making it more accessible for those with jobs and other commitments. The event runs 15th-17th September with a public and entered artists optional mass paint out on the Sunday. Following that will be paint out artist demonstrations on The Buttlands outside the Crown and the Globe, during the Art Exhibition and Festival including food on the Sunday afternoon.
The Wells 2016 event was
won by artist Alfie Carpenter
, who also sold all his works on site. Second place went to
Tanya Pawsey
, and third to
Brian Korteling
. All three also competed at Paint Out Norwich, 15-19 October. Additional prizes abd awards went to
Jack Godfrey
,
John Behm
, and
Will Topley
.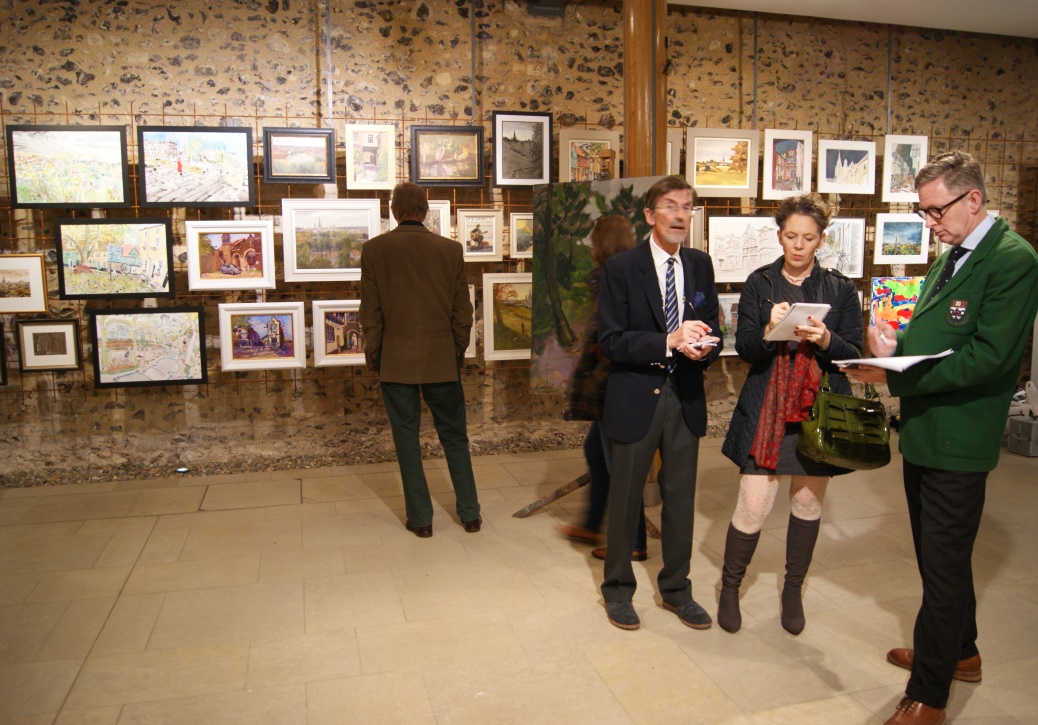 Paint Out Exhibition Gallery & Art Auction
Some of the works from
dozens of artists
last year are still viewable in our
online gallery
. This year's pictures and paintings were
exhibited
at the Hostry extension of Norwich Cathedral from 20-29 October and at the Private View Gala event and now online
gallery
.
Paint Out Norwich 2015 Prizewinning Artists
The 2015 
Prize Winners
were Richard Bond (1st), Mo Teeuw (2nd), Eloise O'Hare (3rd), Michael Richardson (Nocturne 1st) with judges commendations to Brian Korteling, Gennadiy Ivanov, Liam Wales, additional prizes to be announced. Follow
Paint Out Norwich
 on
Facebook
to see what happened and be first to hear about 2016's competition.
Paint Out Wells-next-the-Sea 2015
21 artists descended on North Norfolk's bustling coastal port of
Wells-next-the-Sea
 during this new for 2015 satellite event.
Paint Out
Wells
 featured 2 days of competition sessions, a public beach sunrise 'paint out', evening gala, awards and auction, and a 2-3 day exhibition during the week of 
9-13 September
. The artists' hub was the
historic Dutch ship the Albatros
, moored on the quay and the Wells Maltings
Sackhouse
. The
Prize Winners
were Lara Cobden (1st), Alfie Carpenter (2nd), Jack Godfrey (3rd) with judges commendations to Susan Mann, Jennifer Sendall, Candide Turner-Bridger, additional prizes went to John Behm, Roy Connelly, and Will Topley. Follow
Paint Out Wells
on
Facebook
to see what happened and be first to hear about future competitions.
Follow Paint Out on Social Media
You can also contact us by
Email
and follow us on 
Facebook
,
Google+
,
Instagram
,
LinkedIn
,
Pinterest
,
Twitter
, and
YouTube
. Join our
Arts & Artists Mailing List
Sponsors and Partners
Paint Out
is put on and sustained by art-loving founders and team members - some paid, some volunteers, with the aim of supporting the growth of
plein air
art. To achieve and maintain this we are indebted to our
sponsors and partners
who have provided funds, prizes, or goods and services-in-kind. If you would like to partner or sponsor current and/or future 'paint outs' please
contact us
.