Paint Out Plein Air Art Competition 2015
Paint Out™ is an art event aiming to redefine en plein air art practice. Our core event is the UK's premier juried en plein air competition, celebrating the talents of national and international artists before a wide and growing audience in the heart of medieval and iconic Norwich. Our first satellite event was Wells-next-the-Sea on the North Norfolk coast.
Plein Air - Art works carried out in the open air - chiefly with reference to painting.
The Paint Out competitions, however, accept any 2-dimensional media or mixed-media applied to a canvas/board/paper embracing drawing, pastels, oils, watercolour, acrylic, pen and ink, and even screen-printing. Innovation and originality are encouraged alongside traditional art forms.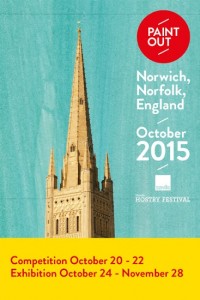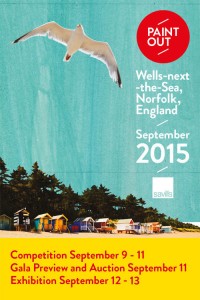 Paint Out Norwich returns for its Second Year
October 19th-23rd 2015 will welcome over 30 selected artists working in a variety of mediums to create work in response to Norwich's vibrant cityscape during a timed competition in full view of the public. On the day before the event Paint Out is offering competition and other artists two art workshops. The event will culminate in a private view gala, auction, and an exhibition of the artists' work to continue for a week after the event and online. This year, the artists, will paint over 3 days and nights, to include daytime and nocturne painting, a mass "paint out" from Mousehold Heath overlooking Norwich, and new locations. Find out when and where you can view the artists in action and their art works here.


Call to Artists for Submissions
Dozens of submissions for both events were received and Wells has proven very popular - watch this space for 2016 dates. Paint Out Norwich 2015 is still open to further submissions, apply soon. We particularly welcome entries from students and those under 30 for additional artist bursary prizes from Cass Art. (Reduced entry requirements apply - no fee and just 3 pictures of past artworks)




Paint Out Wells-next-the-Sea
21 artists descended on North Norfolk's bustling coastal port of Wells-next-the-Sea during this new for 2015 satellite event. Paint Out Wells featured 2 days of competition sessions, a public beach sunrise 'paint out', evening gala, awards and auction, and a 2-3 day exhibition during the week of 9-13 September. The artists' hub was the historic Dutch ship the Albatros, moored on the quay and the Wells Maltings Sackhouse. The Prize Winners were Lara Cobden (1st), Alfie Carpenter (2nd), Jack Godfrey (3rd) with judges commendations to Susan Mann, Jennifer Sendall, Candide Turner-Bridger, additional prizes went to John Behm, Roy Connelly, and Will Topley. Follow Paint Out Wells on Facebook to see what happened and be first to hear about 2016's competition.


---
Follow Paint Out on Social Media
You can also contact us by Email and follow us on Facebook, Google+, Instagram, LinkedIn, Pinterest, Twitter, and YouTube.


Sponsors and Partners
Paint Out is put on and sustained by art-loving founders and team members - some paid, some volunteers, with the aim of supporting the growth of plein air art. To achieve and maintain this we are indebted to our sponsors and partners who have provided funds, prizes, or goods and services-in-kind. If you would like to partner or sponsor current and/or future 'paint outs' please contact us.